Skip to content
Skip to navigation menu


One ingredient that guarantees indoor, outdoor, anytime fun for the kids is...water! Water engages the senses: it's hot and it's cold, loud and quiet, it's slippery, it's fun to watch, and it's calming. Kids might color water for science experiments or add it to dirt and sand to make squidgy, oozy, pie-making mud. If your child shies away at first, reintroduce it later in a different form and you may just catch their interest.
Safety First.
Water is not without danger. At all times, water play absolutely requires an adult's undivided attention. Statistics indicate that the number one fatal occurrence among toddlers is accidental drowning. So let's talk safety—and then we'll "shower" you with ideas to keep kids splashing up a storm!
Join the fun.
Put away the smart phone. Let the chores go. Keep a vigilant eye on your children. In fact—join them!
It's just water.
Clothes will dry. Hair will dry. Furniture will dry. If you're worried about a mess, invest in non-slip water shoes and dress the kids in old clothes, or if it's warm enough, go with bathing suits.
Learn CPR
A quick search online reveals multiple options for CPR training, from in-person courses suggested for childcare professionals, to booklets available for general download. The American Heart Association offers an excellent, inexpensive kit for parents and grandparents. This course teaches child safety techniques for water and other emergencies, and is designed for adults learning at home.
Send it Gurgling Down the Drain (or water your garden)
After play, dump water out of all bowls, pans, and buckets. Close and lock access when your water is a swimming pool. And lastly, mop up any standing water to prevent slips and falls.
Now, on to the fun!
Children are all about exploring this big bright, loud, colorful, smelly world, and water floods the senses with wonder. So many play possibilities—here are a few ideas to immerse your kids in the sight, sound, aroma, feel, and taste of H2O. (Have those towels standing by!)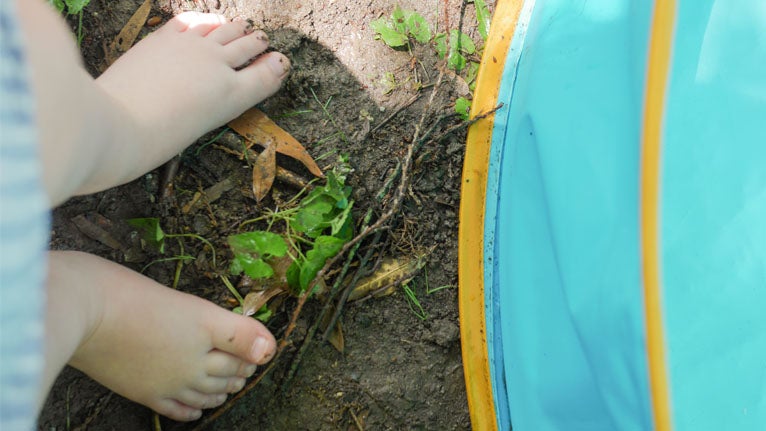 1. Stomping through mud puddles is the clear fan favorite. No child can resist. Better yet is to stomp the thin sheet of ice covering a puddle, then pick up the pieces and drop them. Crash!
2. Pouring water into a collection of unbreakable containers is absorbing early science: small containers fill faster than large ones, and watching how water flows through sieves will absorb toddlers for hours. Pebbles and sticks make dams and bridges; paper cups dissolve under the wetness of water, while time spent sitting in the sun heats and evaporates water.
3. After making snow angels and searching for icicles, bring a bowl of snow inside: color it, pack it, and watch it melt.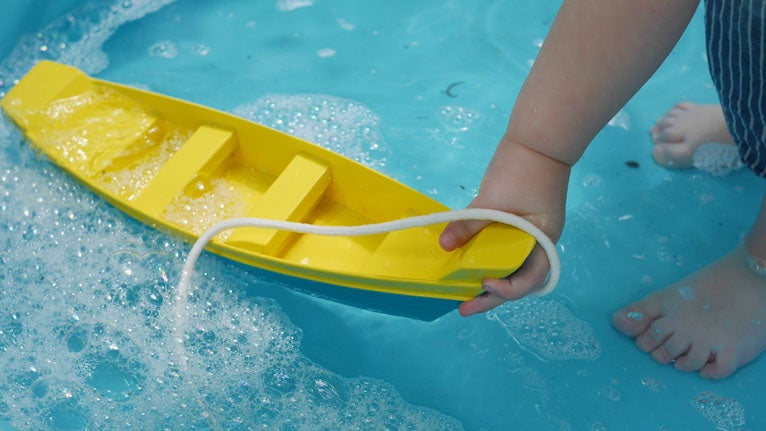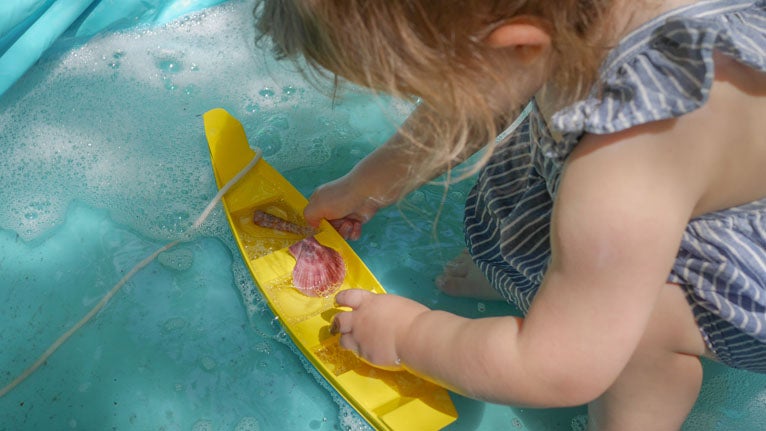 4. Mix up a bowl of soapy water and have children wash their doll's clothes. Mimicking practical tasks fills children with pride and confidence.
5. Swim! Swimming lessons for young children involve singing songs, blowing bubbles, and learning to jump confidently into water. The pace is gentle, and parents watch the action poolside to give comfort to swimming newbies. Tip: if your child resists swimming lessons, show them photographs of swimming animals, especially baby animals swimming alongside their parents!
6. Squirt tag is cool relief on hot summer days. Dig through the pantry for squirt bottles and water bottles and round up neighborhood friends.
7. A very watery tea party! Children pour, of course. Teddy bears, grandparents, and best friends invited. In need of a tea set? We've got you covered.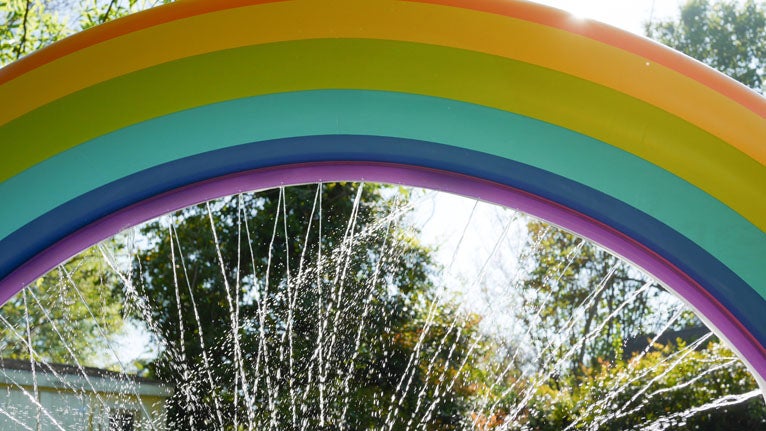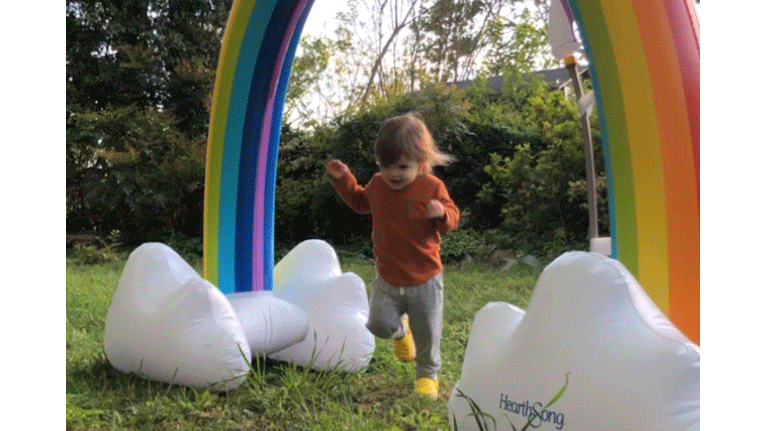 8. Inflatables like these add a ton of fun to backyard summer play! Sprinklers and pool inflatables will entertain multiple kids at a time, offering plenty of muscle-building exercise along with a guaranteed good time.
9. No inflatables? No problem! Convert classic backyard games into watery challenges: Liquid Limbo, Duck Duck Splash, and Water Balloon Pass, for starters.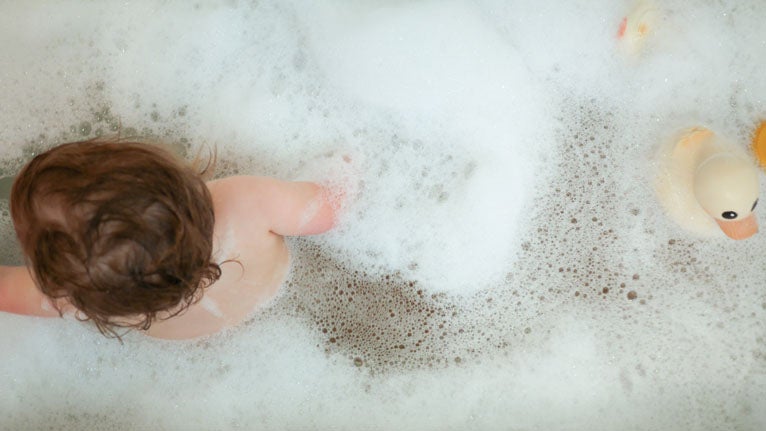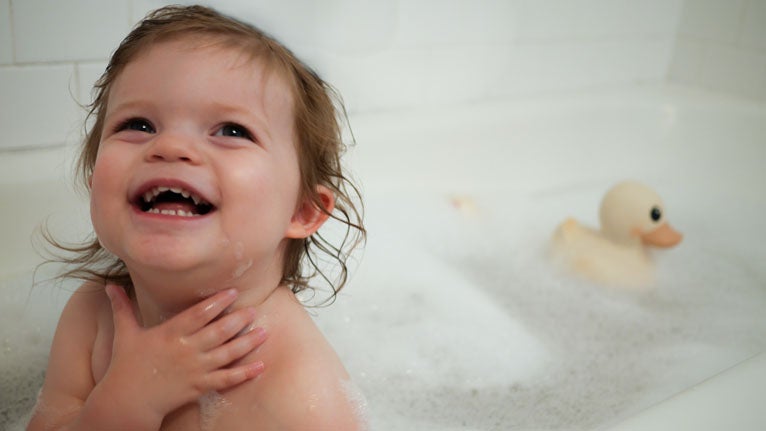 10. And when the day is done, lower your child into a warm, bubbly bath—arguably water at its finest hour. Drop in a circus full of duckies, unicorns, and accommodating dolls, and sit back (watchfully, of course). Another fine quality of water is its ability to calm and soothe a tired body and mind. Once bath time is done, carefully empty the tub and finish the day with a story about oh, let's say an adventurous child and—you guessed it—water.
We'd love to hear your thoughts—on this topic and more! How are we doing?